THE ALDO CUCCURULLO MEMORIAL TROPHY SOCCER CHALLENGE IN NELSON ON LABOUR WEEKEND
It was another successful weekend for both Club Garibaldi and Club Italia ... to Club Garibaldi, because of their win - and for the biggest support group to date, and to Club Italia, for doing such a great job of hosting us over the weekend.
It was great and encouraging to see so many children involved with the kids' soccer, for as we all know, they are the future players for this annual event. They had an opportunity to play a game before the main game, and again at half time. The teams were made up by mixing the Wellington and Nelson kids together, to form four teams.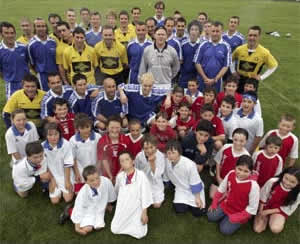 All the senior and junior players
As for the main event, in spite of Team Club Garibaldi members' averaging 40 years, they were very strong indeed, and played the best football that we have seen for many years. The results speak for themselves. We would like to take this opportunity to thank those club members who went to Nelson to support this event ... we hope they enjoyed the weekend and will continue to help keep the tournament 'alive'. Thank you to our soccer team players for their efforts and for once again, bringing home the trophy.
We would also like to take this opportunity to thank Paul Lubas and Francis Miccio for helping us to organise the event, and we look forward to next year's challenge in Wellington.
CLUB GARIBALDI 3 ... CLUB ITALIAN NELSON 2
By Paul Muollo
Club Garibaldi made it 3 wins in a row in the annual Aldo Cuccurrullo Trophy game played in Nelson. It was great to see the huge turnout of supporters and see all the children taking part in the earlier games.
The game kicked off with Club Italia on top but against the run of play Mike Gaeta set up Franco Colucci to score from outside the area with a shot that went in off the post. Nelson equalised a few minutes later with an unstoppable free kick from Massamilliano Ancell. Club Garibaldi dominated possession in the final stages of the first half and scored a second after a great cross by Lee Westlake was slotted home by Damian Hannah. Half time; Club Italia 1 Club Garibaldi 2
The 2nd half was a stalemate for much of the half until Nelson equalised through another free kick, George Molnar was the scorer. Fortunately a few minutes later Garibaldi restored their lead when a Dave Da Vanzo shot fell at the feet of Lee Westlake and his shot proved too much for the Italia keeper.
Nelson fought hard to get an equaliser and were unlucky when they hit the underside of the crossbar with the keeper beaten. The final whistle saw Garibaldi hold on for a hard fought victory.
Player of the day for Club Garibaldi was Michael De Gregorio.