The sons' of Club Italia's George Molnar and John Esposito shone brightly in the latest edition of the Aldo Cuccurullo Memorial Trophy match in Nelson.
The game was played on a brilliantly fine afternoon, which seems to be the norm for our games down there, and the Guppy Park pitch looked flat and smooth.
The young gun sons' from Club Italia, Luca Molnar and Salvi Esposito, caused problems for us early, making overlapping runs out wide, and either crossing the ball into the box or looking to shoot on goal themselves. The early pressure eventually told, when a deflected cross fell to Luca Molnar in the box, and he made no mistake and buried the ball into the net.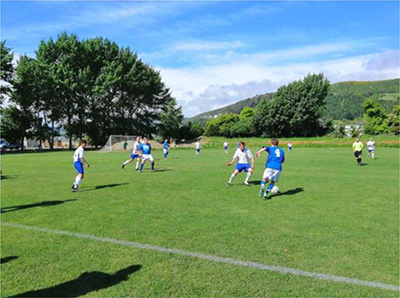 Only 0-1 down at the break, despite having been under siege for most of the first half, we felt we were right in the game. We started the second half brightly, keeping it tight at the back, and launching attacks in search of an equaliser. Club Italia were defending very well, however, with Mikey Musso and Adriano Cupit proving especially difficult to get past. Just when we felt we were starting to dictate terms, Club Italia struck, when veteran striker, Joe Lupi, pounced on a loose ball in the box and doubled their lead.
At 0-2 down, we had to throw more caution to the wind, and in doing so, we became more vulnerable to Club Italia attacks. A ball played over the top of our defence to Joe Lupi led to their third goal, despite our protests that he had been in an offside position. A fourth goal for Club Italia put the game beyond our reach, a through ball which again appeared to be offside, but nothing was given, and suddenly it was 0-4. Try as we might, we could not get a goal back, despite many good attacks with debutante, Kerryn Friday, in particular, making some very penetrative bursts. The youth of Club Italia capped off their sparkling day, when Salvi Esposito lobbed the ball perfectly over our advancing keeper to make it 0-5. Club Italia put on a wonderful dinner as always after the game, and we had a very enjoyable evening at the Club and on the town later. Congratulations to Raff DeVitt who was named "Player of the Day" for Wellington.
A big thank you to Linda De Gregorio for all of her support and organisation, and we look forward to hosting Club Italia next year, in Wellington, and hopefully reclaiming the Cup!